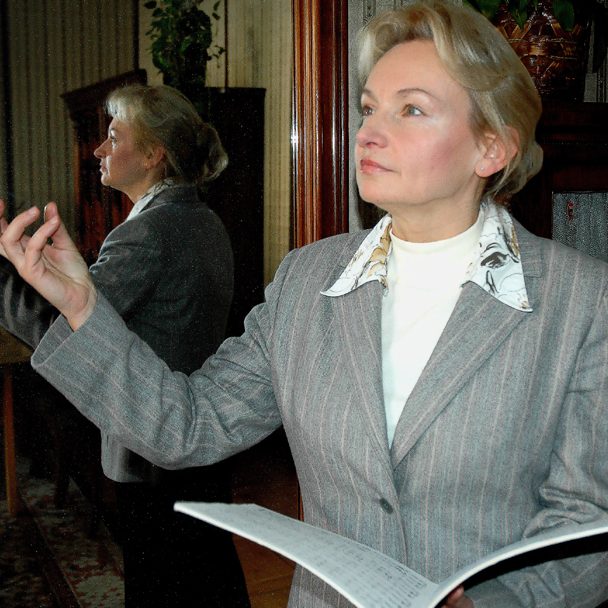 Elżbieta Wiesztordt-Sulecińska
Back to teaching staff
Elżbieta Wiesztordt-Sulecińska
Elżbieta Wiesztordt-Sulecińska was born in Gdańsk in 1952. Graduated with honours from the Academy of Music in Poznań, where she studied orchestral conducting under the supervision prof. Witold Krzemieński. She has long associated with the Feliks Nowowiejski Academy of Music in Bydgoszcz (since 1982) and Stanisław Moniuszko Academy of Music in Gdańsk (since 1986) as a Professor of Conducting. Many years she held the position of Head of the Conducting Department in both Academy. On December 2003 she was conferred the title of Professor of Music.
In her varied career she served as teacher-conductor of symphonic orchestra
in Feliks Nowowiejski Grammar and Music School the First and Second
Level in Gdańsk (27 years) and Fryderyk Chopin School of Music the Second Level in Gdańsk-Wrzeszcz (orchestra and choir). During her time at the Baltic Opera and Philharmonic (14 years) she conducted concerts and spectacles, cooperated on the preparation many premières and was director-conductor of Choir in this Opera.
Elżbieta Wiesztordt-Sulecińska has also made appearances in many
philharmonic halls in Poland. She given a concerts in Western Europe and
Russia too.
Several times she was member of the jury Competitions for Conductors.
In addition she was music journalist at Polish Television in Gdańsk (17 years).
She received many rewards and honorific distinctions.