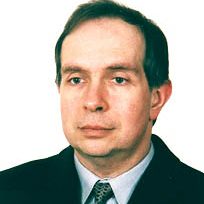 Piotr Grajter
Back to teaching staff
Piotr Grajter
Piotr Grajter (full professor) was born in Łódź in 1955. At the Łódź Academy of Music he studied organ in Mirosław Pietkiewicz's class (graduated with distinction in 1980), theory of music (graduated with distinction in 1981), and composition under Jerzy Bauer (graduated in 1984). In the academic year of 1981/1982 he did a post-degree programme at the Hochschule für Musik und Theater in Hamburg, with Ernst Ulrich von Kameke. He also participated in summer courses in organ music interpretation taught by J. E. Köhler (Weimar, 1978), M. Šlechta (Prague, 1979) and F. Peeters (Mechelen, 1982).
He has performed in Poland and abroad, in Belgium, the Czech Republic, Denmark, France, Moldova, Slovakia, Germany and the Ukraine. His extensive repertoire comprises a variety of organ pieces, from Baroque to 20th-century music.
He began his academic career as a teaching assistant in 1982, continued as an assistant professor (1987) and then professor (1998). Employed by his alma mater, the Grażyna and Kiejstut Bacewicz Academy of Music in Łódź, and the Feliks Nowowiejski Academy of Music in Bydgoszcz, he teaches organ, courses in organ improvisation, basso continuo, organ literature and organ studies. He has had 14 graduates (two with distinctions) in his classes. Three of his students have also been winners of national organ competitions.
Piotr is the author of specialist works on organ music published by the Stanisław Moniuszko Academy of Music in Gdańsk. In the years 1978–1989 he also wrote his own compositions, including organ and orchestral pieces as well as chaber music. Since 1992 he has been the artistic director of the Inowrocław Organ Festival. He also acts as a consultant on the methodology of teaching organ for secondary music schools in Łódź, Inowrocław and Częstochowa. In recognition of his artistic and pedagogical work he received awards from the rectors of the academies of music in Łódź and Bydgoszcz, as well as the ministerial distinction of merit for his cultural activity and the Polish state decoration, the Silver Cross of Merit.