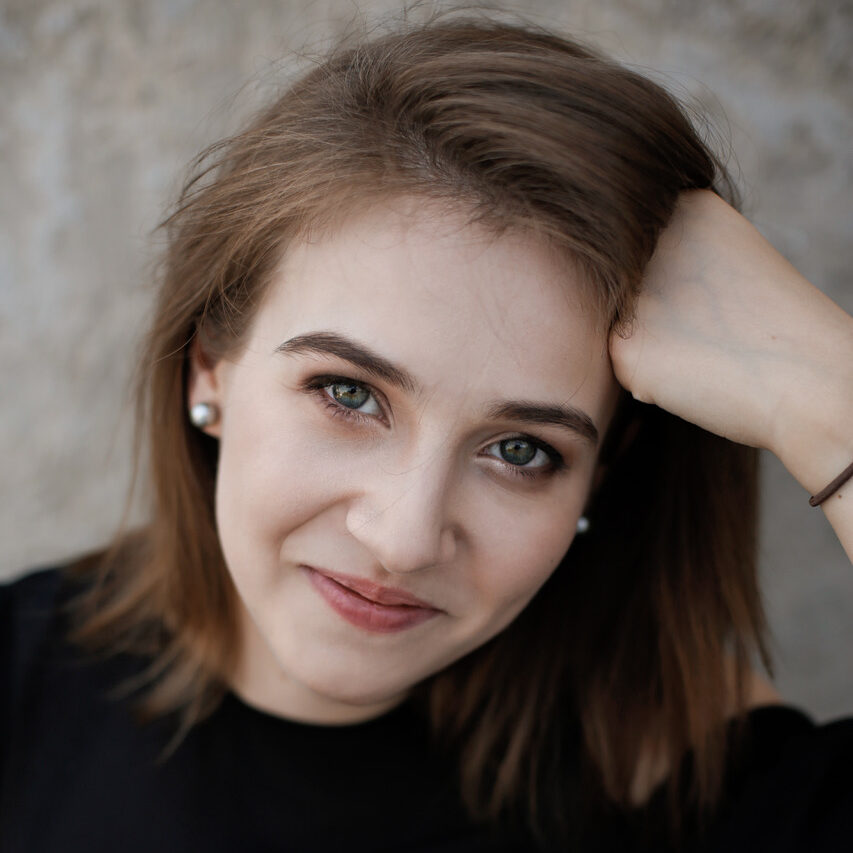 Sara Wienczek
Back to teaching staff
Sara Wienczek
Sara Wienczek graduated with distinction from Państwowa Ogólnokształcąca Szkoła Muzyczna im. Karola Szymanowskiego (Karol Szymanowski Musical School) in Katowice in accordion class under supervision of Professor Marek Andrysek. In 2020 she graduated with distinction from The Feliks Nowowiejski Academy of Music in Bydgoszcz in accordion class under supervision of Professor Jerzy Kaszuba and Dr. Stanisław Miłek.
In 2017 she received honorable mention in IX Ogólnopolski  Konkurs Akordeonowy in Solec-Zdrój.
From 2018 to 2020 she was part of the duet Nowakowski/Wienczek Duo, which won first awards in the following international competitions: The North International Music Competition in Stockholm (Sweden),  International Accordion Competition in Pula (Croatia), Internet Music Competition in Belgrad (Serbia), International Accordion Competition "Ascoltate" 2019 in Kaunas (Lithuania),  International Competition in Prague 2019 (Czech Republic), XIX Międzynarodowy Konkurs Muzyki Rozrywkowej in Giżycko (international competition in entertainment music). She also received honorable mentions in the following competitions: XXI Międzynarodowy Przegląd Zespołów Kameralnych in Jawor,  6th International Chamber Music Competition in Bydgoszcz, X Ogólnopolski Jubileuszowy Konkurs Akordeonowy in Solec – Zdrój (she also gained special award at this competition).
She played solo recitals at Mazowiecki Instytut Kultury (Masovian Insitute of Culture) in Warsaw, in the Radio PIK, and at Carnival Concerts organized by The Academy of Music in Bydgoszcz.
As a chamber musician she gave a concert in the Palace in Lubostroń, in Sinfonia Varsovia, in The Krzysztof Pendrecki European Centre for Music, at Gdański University, and at Chopin Univerisity of Music in Warsaw. In her artistic practice she performed at such festivals as: "Goście Polskiego Chóru Kameralnego" in Gdańsk,  VI Międzynarodowy Festiwal Muzyki Organowej i Kameralnej in Giewartów, composer concert during the event Forum. Lutosławski.
She participated in concerts associated to conferences organized in Poznań and Gdańsk, and she also gave a seminar at Accordion Seminars in Bydgoszcz and Accordion Conference "Poranek z muzyką akordeonową" organized by I. J. Paderewski Music Academy in Poznań.
She developed her skills participating in the MasterClass at Accordion Workshop in The Krzysztof Penderecki European Centre for Music, Courses of Music Interpretation, Nadbałtyckie Warsztaty Muzyczne working under supervision of such excellent pedagogues as: Yurij Shishkin, Grzegorz Stopa, Alexander Selivanov, Alexander Dmitriev, Alfred Melichar, Nicolai Sevryukov, Raimondas Sviackevicius,  Vlodymyr Runchak, Sergey Osokin, Vladimir Blagojevic, Mikko Luoma, Alexandar Stefanovic, Bogdan Dowlasz, Elżbieta Rosińska,  Klaudiusz Baran,  Grzegorz Palus,  Rafał Grząka.
During her studies Sara was granted four times scholarship  Rector of Feliks Nowowiejski Academy of Music for the best students, scholarship of the President of Bydgoszcz for excellent student (2019) and artistic scholarship of the Minister of Culture and National Heritage (2019).