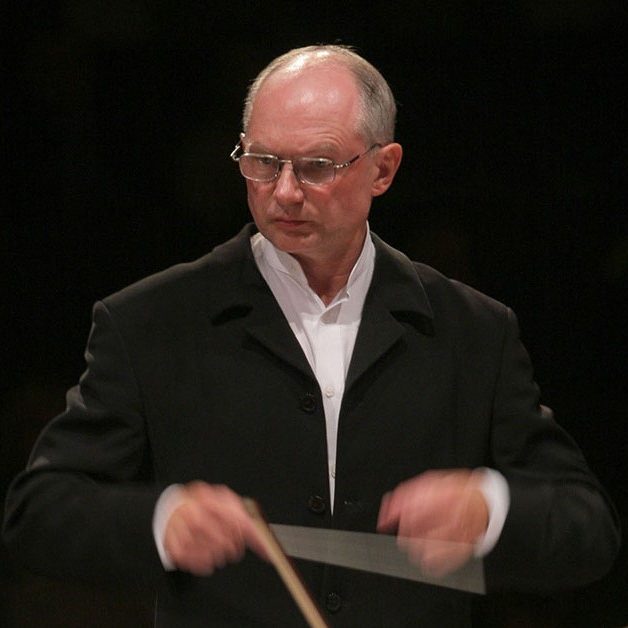 Bohdan Jarmołowicz
Back to teaching staff
Bohdan Jarmołowicz
Bohdan Jarmołowicz is a graduate of Państwowa Wyższa Szkoła Muzyczna (the State Higher School of Music) in Poznań, where he studied conducting and composition.
During his student years, he was deeply involved in the revival of the Wielkopolska jazz movement. He received both the III prize at the Międzynarodowy Festiwal Pianistów Jazzowych (International Jazz Pianists' Festival) in Kalisz and a special award at the Złota Tarka Festival in Warsaw.
He has worked with Orkiestra Polskiego Radia i Telewizji (the Polish Radio and Television Orchestra) in Poznań, with whom he has made numerous radio recordings and albums which include his own compositions and arrangements. He has composed and recorded music for television plays ( including productions for Television Theatre) and films. As a conductor, he participated in the recording of the music for the famous American film, Stalin, starring Robert Duvall.
In 1980, he was a finalist of the International Competition for Young Conductors in Besançon ( France).
In the 1980's and 90's, he appeared in Western Europe as the conductor and director general of music for a number of American-German productions of famous musicals, amongst them Cabaret, West Side Story and The Phantom of the Opera. He has performed and recorded with numerous orchestras, including Das Sinfonie Orchester Berlin.
As one of four conductors, he participated in the 1991 European premiere of George Crumb's composition, The Star Child, performed during the Festival of Contemporary Music, Warszawska Jesień (Warsaw Autumn).
For well-nigh twenty years, he has been arranging a variety of stylistic programmes of music for symphony orchestras.
He made the world's first ever recording of rarely performed compositions for saxophone and chamber orchestra ( Rachmaninov, Glazunov,
P.M. Dubois, Villa-Lobos and Ibert) with the Słupsk orchestra and the American saxophonist, Greg Banaszak. The recording of the P.M. Dubois concerto is the first recording of that work ever to have been made. That album, recorded in April 1998 for the American production company, Centaur Records, was nominated for a Grammy, the prestigious, American music industry award, in the same year. Before that, no Polish orchestra had been thus singled out for distinction.
He has a number of premieres of contemporary Polish works to his credit, including compositions by Krzesimir Dębski, Norbert Mateusz Kużnik and Piotr Moss.
Together with his orchestra, he has recorded a total of 25 CDs. Amongst them is an album recorded for the production company, DUX, entitled The Unknown Chopin which contains a number of Frederick Chopin's compositions arranged by the pianist, Edward Wolanin and a CD of contemporary American music, recorded with the American flautist, Katherine DeJongh, for the production company, Centaur Records. An album was made of his arrangement for symphony orchestra of Jewish songs as settings for the texts of Itzik Manger, which was created for the singer and actor, Andrzej Ochodle. Significant recordings from amongst his oeuvre are the albums of Krzesimir Dębiski's classical music, Piano Concerto, Concerto for Two Stradivariuses and the Nihil homine mirabilius symphony, as well as an album of his own arrangement for violin and bandoneon of Astor Piazzolla's tangos and of Gershwin's Porgy and Bess suite for solo violin and symphony orchestra, recorded with the violinist, Tomasz Tomaszewski, and the bandoneonist, Wiesław Prządka.
Amongst the notable ventures initiated and brought to fruition by Bohdan Jarmołowicz and his orchestra in recent years was their participation in Wojciech Killar's Missa pro pace, performed in the presence of the composer himself. Another such undertaking, Violin Summit, a concert given by Polish jazz and classical violin stars, which took place in the Polski Filharmonia Bałtycka concert hall (the Polish Baltic Symphony) in Gdańsk, became the winner of the Pomorska Nagroda Artystyczna "Gryf 2003" (the 'Gryphon 2003' Pomeranian Artistic Award) for an artistic event. Also noteworthy was a cycle of concerts, Music Connects Nations or Krakow Symphonically, with the participation of the world-renowned klezmer group, Kroke, from Krakow, which was presented in Bydgoszcz and Gdańsk amongst other places.
Together with his orchestra and Polish soloists ( Wiesław Prządka, Tomasz Tomaszewski and Filip Wojciechowski) and the distinguished French accordionist, Richard Galliano, he has performed in several Polish cities ( Gdańsk, Poznań and Krakow). A live recording entitled Tango Forever was made when his arrangements were performed in concert in Poznań in 2005. The beginning of this year saw the release of Tango alla polacca, another CD of tango music, this time presenting the compositions of Władysław Szpilman in the form of arrangements for solo instruments and symphony orchestra. He has lately recorded two interesting CD albums with the best Polish jazz musicians: Another Chopin ( with Chopin's miniature pieces in symphonic and jazz versions, 2011) and Impressions For the Symphonic Orchestra and Jazz Quartet ( Chopin's, Komeda's and Wieniawski's pieces included, 2017)
Over the last three years, together with the Baltic Symphony Orchestra, Bohdan Jarmołowicz has accompanied several acclaimed ballet companies, amongst which were Classique Ballet de Paris and the St. Petersburg State Ballet, performing Pyotr Tchaikovsky's ballets, The Nutcracker and Swan Lake. Together with his orchestra, he also met with great success in concert with the world-renowned pianist, Cyprien Katsaris, at the Pianists' Festival in Lublewo. A DVD of Mozart's Requiem in D-Minor, recorded in Gdańsk during a concert given on the anniversary of the composer's death by soloists, the Słupsk orchestra and Polski Chór Kameralny (the Polish Chamber Choir) Schola Cantorum Gedanensis and conducted by Jarmołowicz, was released in 2006.
Jarmołowicz has performed with the majority of renowned Polish soloists, as well as many from abroad, amongst them Katherine deJongh, Greg Banaszak, Vadim Brodski, Richard Galliano, Phillip Giusiano, Cyprien Katsaris, Kevin Kenner, Giennadi Voskresensky, Grigori Żyslin and, most recently, the acclaimed Indian violinist, L. Subramaniam.
He has conducted a series of inaugural concerts, unbroken since 1990, for the annual Polish Piano Festival in Słupsk. He is the holder of numerous artistic awards and state honours, amongst them Radio Personality of the Year, a distinction awarded by radio journalists and has twice received the Pomorskiej Nagrody Artystyczny.
He was held the position of director of Polska Filharmonia Sinfonia Baltica in Słupsk since 1990 till 2017. He has been the lecturer of The Music Academy in Bydgoszcz since 2015.