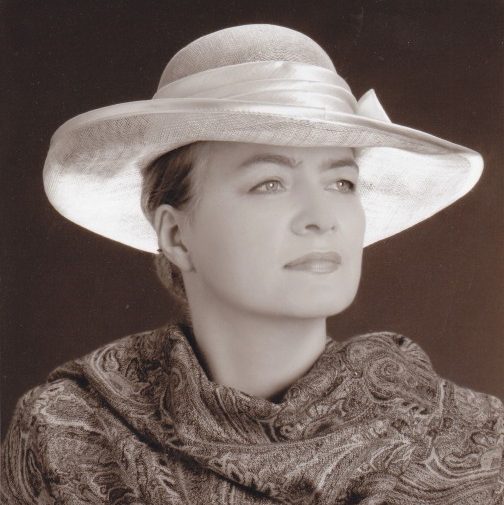 Ewa Pobłocka
Back to teaching staff
Ewa Pobłocka
Ewa Pobłocka was born in Chełmno. She comes from a musical family, as her mother Zofia Janukowicz-Pobłocka was a professional singer. Ewa began her piano education at the age of five. She studied at the State Higher School of Music in Gdańsk (today's Academy of Music) under Zbigniew Śliwiński and Jerzy Sulikowski, and she graduated with honours in 1981. She continued her education completing her post-graduate studies in Hamburg under Conrad Hansen. She also had artistic consultations from Jadwiga Sukiennicka, Rudolf Kerer, Tatiana Nikolaeva and Martha Argerich. She is laureate of international piano competitions in Vercelli (1977), Bordeaux (1979), and Warsaw (1980).
Ewa Pobłocka debuted on stage at the age of twelve, accompanying her mother during singing recitals in Poland and abroad. She has performed in almost every European country, and also in both Americas, China, Indonesia, Vietnam, South Africa, Singapore, Korea, Japan and Australia. She played in such famous concert halls as Herkules-Saal in Munich, Musikhalle in Hamburg, St. Petersburg Philharmonic Hall, Théâtre des Champs Elysées in Paris, Kyoi Hall in Tokyo, Auditorio Nacional in Madrid, Barbican Centre and Wigmore Hall in London, Musikverein in Vienna, Mozarteum in Salzburg, Lincoln Center in New York, the Philadelphia Philharmonic Hall, Glenn Gould Studio in Toronto and many others. As a soloist she performed with the London Symphony Orchestra, the English Chamber Orchestra, Orchestra del Maggio Musicale Fiorentino, Bayerischer Rundfunkorchester, Tonkünstler-Orchester Niederösterreich, New Japan Philharmonic, the Polish Chamber Orchestra, Sinfonia Varsovia, the Warsaw Philharmonic Orchestra and the Polish Radio National Symphony Orchestra in Katowice.
Ewa Pobłocka enjoys performing chamber music. In the 1990s she frequently performed chamber works with the Silesian String Quartet and singers Jadwiga Rappé and Olga Pasiecznik. She has appeared in recitals with the bass singer Evgenij Nesterenko and regularly co-operates with Ewa Podleś. Among her many chamber music projects some are especially worth mentioning, carried out as part of the Chopin Year celebrations: concerts with Dang Thai Son presenting pieces for four hands and two pianos (Mozart, Poulenc and Schubert), performances with the Philharmonia Quartett Berlin with Schumann's Piano Quintet and recording Chopin's songs with Iwona Sobotka and Artur Ruciński. Currently, Ewa Pobłocka is part of the Multitrio ensemble with her daughters Ewa Leszczyńska (soprano) and Maria Leszczyńska (cello), presenting chamber repertoire composed for such forces.
Ewa Pobłocka was a soloist for many world premiere performances and first recordings of the works of Polish contemporary composers, including Andrzej Panufnik, Witold Lutosławski, Paweł Szymański and Paweł Mykietyn (the two last-mentioned composers dedicated their works to her). She performed Panufnik's Piano Concerto in the presence of the composer during the Warsaw Autumn Festival in 1990; a year later she recorded it with the London Symphony Orchestra for the British recording label Conifer Classics. In 1998 she recorded that concerto again for the Polish label CD Accord, performing with the Warsaw Philharmonic Orchestra under Kazimierz Kord. On the same album she plays the concertos by Witold Lutosławski and Paweł Szymański. With Lutosławski's Concerto she came on stage many times together with the composer himself as conductor. Their joint performance with the Polish Radio National Symphony Orchestra was released by CD Accord.
Ewa Pobłocka co-operates with many European radio broadcasters. There are almost 50 records in her phonographic output, covering the solo, chamber and orchestral repertoire ranging from Baroque to contemporary music recorded for such labels as Polskie Nagrania "Muza", Deutsche Grammophon, Pony Canyon, Victor JVC, Conifer Records, CD Accord, and BeArTon. Her recordings were enthusiastically praised by critics and received prestigious awards, including two Fryderyk statuettes (both in 1998), two Record of the Year titles awarded by the 'Studio' Magazine (in 1996 and 1998) and the John Field Medal for the recording of his complete Nocturnes.
The artist is also a valued pedagogue. She conducts a piano class at the Academy of Music in Bydgoszcz. She has given master classes in Canada, Vietnam, Japan, Mongolia, China, Ireland, Norway and Korea. She is also Visiting Professor at the Geidai University of Arts and Music in Tokyo and Nagoi. She was invited to serve as a jury member at such Polish and foreign piano competitions as the Unisa International Piano Competition in Pretoria (2004), the International Chopin Piano Competition in Warsaw (2005), the Esther Honens International Piano Competition in Calgary (2006), and the International Piano Competition in Hamamatsu (2012).
In 2004 Ewa Pobłocka received the annual award of the Minister of Culture and National Heritage of the Republic of Poland. In the same year she was awarded the Knight's Cross of the Order of Polonia Restituta by the President of the Republic of Poland.