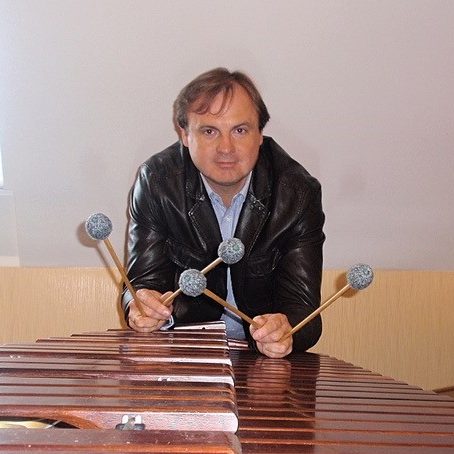 Grzegorz Jurczyk
Back to teaching staff
Grzegorz Jurczyk
Grzegorz Jurczyk (full professor) is a graduate of the Feliks Nowowiejski Academy of Music in Bydgoszcz. After graduation he perfected his percussion skills in Robert van Sice's class as a student of a post-degree programme at the Rotterdam Conservatory in Holland. He has also been the recipient of an art scholarship awarded by the Ministry of Culture and Art, and a scholarship granted by the European Foundation Tempus.
His musical interests range from baroque music to works written by 20th-century composers. He was the first to premiere such compositions for marimba as One by One for marimba solo by Hanna Kulenty and the Concerto for Solo Marimba by Michał Zieliński. He has frequently presented percussion pieces at the International Krakow Composer Days Festival of Contemporary Music, the Warsaw Autumn Festival, the International Percussion Festival 'Drum Fest' in Opole, or the International Percussion Music Days Festival in Koszalin.
Grzegorz has actively been involved in projects specializing in the historically informed performance of 17th and 18th-century music since 1998. He has collaborated with such baroque ensembles as Marek Toporowski's Concerto Polacco Orchestra, Agata Sapiecha's Il Tempo Ensemble, the Lower Silesia Baroque Orchestra, the Lyrical Orchestra, the Jasna Góra Monastery Ensemble or the Accademia dell'Arcadia Orchestra. With these orchestras he has recorded twelve CD albums and and two DVDs. He has also performed at early music festivals, including the International Bach Festival in Świdnica, the Early Music Festival in Warsaw, the Gaude Mater Festival of Sacred Music in Częstochowa, the International Summer Early Music Academy in Warsaw, and the International Wratislavia Cantans Festival in Wrocław.
Since 1987 he has been a member of symphony and opera orchestras: the Opera Nova Orchestra in Bydgoszcz (where he is currently a soloist), the Pomeranian Philharmonic Orchestra in Bydgoszcz, and the Toruń Chamber Orchestra.
Ever since he began his pedagogical career Grzegorz has been a teacher of percussion at his alma mater. His students are winners and finalists of some of the prestigious international and national music competitions, such as the International Gaudeamus Interpreters Competition in Rotterdam (Holland), the International Vibraphone Competition in Clermont–Ferrand (France), the International Percussion Competition in Fermo (Italy), the International Vibraphone Competition in Opole, the International Percussion Competition in Warsaw, or the Yamaha Scholarship Award Competition. Besides being frequently invited to teach percussion workshops and seminars, he also sits on juries for national and international percussion music competitions.