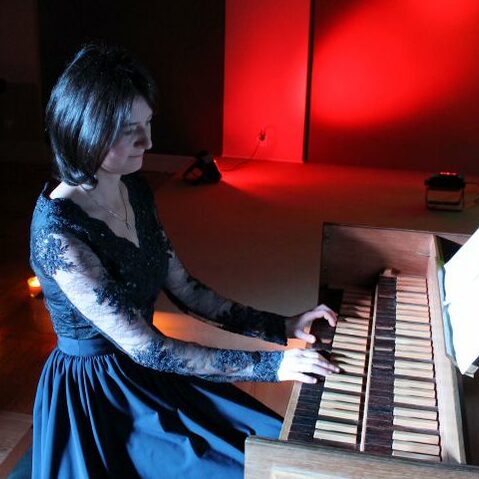 Justyna Woś
Back to teaching staff
Justyna Woś
Justyna is a lecturer at the Feliks Nowowiejski Academy of Music in Bydgoszcz, where she is also currently enrolled as a doctoral student. She graduated from the Fryderyk Chopin University of Music, majoring in harpsichord performance with Władysław Kłosiewicz. During her studies, she has participated in the Erasmus exchange program, spending a year studying with Nicholas Parle and Tobias Schade in the Hochschule für Musik und Theater (Leipzig – Germany). She also completed complementary studies in the Schola Cantorum Basiliensis (Basel – Switzerland) with Andrea Marcon, where she also received lessons from Jermaine Sprosse.
Justyna has attended many masterclasses, with teachers including Andrea Marcon, Gunther Rost, Jean-Marc Aymes, Mitzi Meyerson, Ryo Terakado, Marek Toporowski, Leszek Kędracki, Elżbieta Stefańska, Ewa Mrowca, Marcin Szelest, Alina Ratkowska, Lilianna Stawarz, Maria Erdman, Katarzyna Drogosz, Eckhard Kuper, Sigiswald Kuijken, Barbara Maria Willi, Petr Wagner, and the Arte Dei Suonatori Ensemble.
Justyna is the holder of an artistic scholarship from the Kazimierz Bartkowiak Foundation (Lugano – Switzerland). She also received a scholarship from the Rector of the Feliks Nowowiejski Music Academy in Bydgoszcz, as well as being honoured with a scholarship for outstanding merit as a doctoral student. She was granted a Scholarship by the President of Bydgoszcz as a person involved with artistic creation and promoting culture, and through that scholarship was able to organise a series of concerts titled "Duelli Barocchi". She is a member of the team responsible for organising the Bydgoszcz Baroque Scene Festival (Bydgoska Scena Barokowa), which is sponsored by the Polish Ministry of Culture and National Heritage.
Justyna performs regularly as a soloist and a chamber musician throughout Europe and Poland. She presented a solo recital as part of the first Baltic International Harpsichord Festival (Gdańsk- Poland). She participated in an audio-video recording of the contemporary premiere of the Nicola Porpora opera Filandro during the second Bydgoszcz Baroque Scene Festival (Bydgoszcz – Poland), which was later broadcast by local radio and television stations. She has worked with the Philharmonic Orchestras in Bydgoszcz, Częstochowa and Kraków. Justyna took part in a performance of J. S. Bach's Concerto for Four Harpsichords and Strings during the Bach Festival in Świdnica (Poland) as a soloist. She has performed numerous times on original period instruments for the Alte Musik Fest in the Grassi Museum in Leipzig, and has performed two solo concerti with the Orchestra da Camera di Lugano under the direction of Stefano Bazzi.