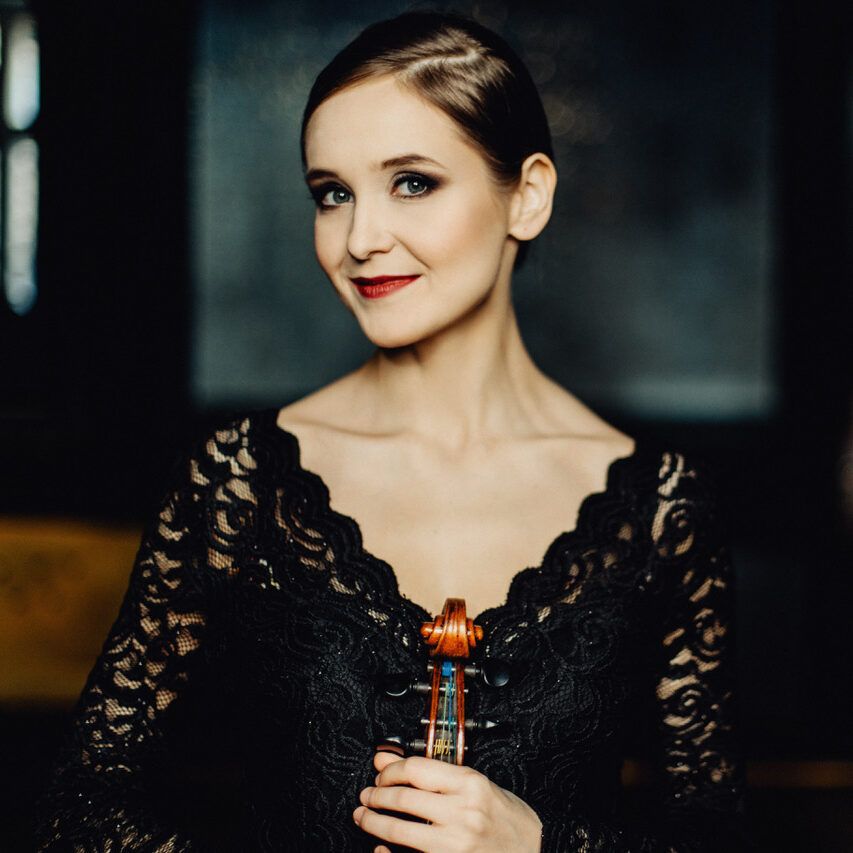 Katarzyna Gluza
Back to teaching staff
Katarzyna Gluza
She began her musical education with piano lessons at the age of six. Year after that, she started attending the Stanisław Moniuszko State General Primary and Secondary Music School in Bielsko-Biała with K. Stolarz. She graduated with honours in the year 2009. Katarzyna continued her education at the Ignacy Jan Paderewski Academy of Music in Poznań with M. Derewecki, M. Bryła and A. Szymczewska and she graduated with honours as a master of arts in 2014. As part of the Erasmus scholarship, she studied at the Universität der Künste in Berlin with T. Tomaszewski (2013). She also completed an orchestral training with the Sinfonia Varsovia Academy programme (2015). Currently, Katarzyna is a PhD student at the F. Nowowiejski Academy of Music in Bydgoszcz.
She is an award winner of the National Harmonic Competition in the concert category in Łódź (2008), first prize winner of the international competitions in Barletta and Francavilla Fontana (2012) and she was rewarded for the best performance of the mandatory piece at the 9th Concurso de Instrumentos de Arco Julio Cordona in Portugal (2015). Since 2016, she has been a first violinist in the Ãtma string quartet. Together with the quartet, she won the first prize and three special prizes at the 2nd International Karol Szymanowski String Quartet Competition in Katowice (2017), Förderpreis and Bärenreiter Urtext Preis at the 10th International Franz Schubert und die Musik der Moderne Competition in Graz (2018), the third prize at the International Karol Szymanowski Music Competition in Katowice (2018), the third prize at the Gianni Bergamo Classic Music Award in Lugano (2019), and the second prize at the International Stanislaw Moniuszko Polish Music Competition in Rzeszów (2019). She was repeatedly awarded with the chancellor's scholarship at the Poznan Academy of Music (2011– 2014). Katarzyna was also awarded with the Minister of Science and Higher Education scholarship (2013), creativity scholarship in Bielsko-Biała (2016) and the Polish Ministry of Culture and National Heritage Scholarship "Młoda Polska" thanks to which she recorded a CD with chosen string quartets by polish composers.   
Katarzyna is an active artist and she mostly performs with the Ãtma quartet. She appeared at many international festivals, such as La Folle Journée (Japan), Davos Festival (Switzerland), Zeist Music Days (the Netherlands), Baltic Sea Festival, Aurora Music Star Festival (Sweden), La Folle Journée, Festival de musique de Besançon, P. Casalsa Festival, Festival Quatuor à Bordeaux (France), Emanacje Festival, Ludwig van Beethoven Easter Festival, Music in Old Cracow Fesival, the 41st Karol Szymanowski Music Days in Zakopane, Sinfonietta Festival, Chamber Music Festival in Urle, Princess Daisy Ensemble Festival, Transatlantic Festival, Leszno Barok Plus Festival, International Festival of Young Music Competition Laureates, Muzyka u Źródeł, Music at the Blumwe's villa, Poznań Baroque Festival, Animator (Poland), Young Euro Classic, Schleswig-Holstein Musik Festival, Usedomer Musikfestival (Germany). She worked with recognised musicians, such as K. Masur, K. Järvi, J. Maksymiuk, J. Kaspszyk, K. Penderecki, J. Axelrod, P. Domingo, P. Anderszewski, Y. Adeeva. Katarzyna made recordings for the Polish and French television. She was invited to play with numerous orchestras, such as Sinfonia Varsovia, Warsaw Philharmonic, Sinfonietta Cracovia, Poznań Philharmonic, Gorzów Philharmonic, orchestra of the Music Theatre in Poznań, Orkiestra L'autunno, Collegium F, Baltic Neopolis Orchestra, Baltic Youth Philharmonic, C/O chamber orchestra, Orchestra Nova.