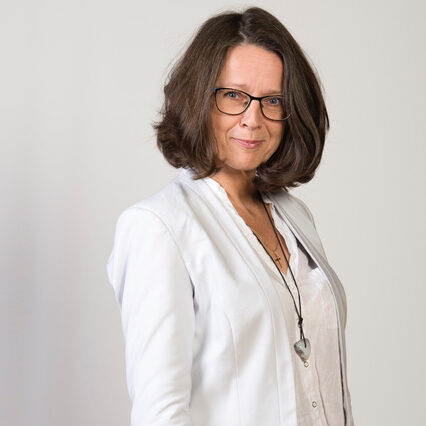 Katarzyna Rajs
Back to teaching staff
Katarzyna Rajs
Katarzyna Rajs (associate professor) studied piano in Katarzyna Popowa-Zydroń's class at the Feliks Nowowiejski Academy of Music in Bydgoszcz. She then continued her piano studies by doing a post-degree programme with Jerzy Sulikowski. She is the winner of a number of music competitions and festivals, such as the Russian and Soviet Music Festival in Gdańsk, the 3rd National Ignacy Jan Paderewski Piano Competition in Bydgoszcz, the International Miłosz Magin Piano Competition in Paris, or, as a chamber musician, the 11th František Gregor International Double Bass Competition in Kroměříž (the Czech Republic). She was awarded a scholarship by the Minister of Culture and Art. She honed her piano skills by participating in piano courses taught by such renowned artists as Tatiana Shebanova, Ewa Pobłocka, or Volker Banfield. In 2004 she obtained her doctorate, Katarzyna Popowa-Zydroń having been her doctoral advisor.
In 2011 Katarzyna recorded a complete collection of piano mazurkas by Roman Maciejewski and published an academic study titled The Chopin-Like Mazurka Idiom in Piano Mazurkas by Roman Maciejewski: Selected Aspects of the Works' Poetic Quality (ISBN 978-83-61262-80-0). While academically active she has also been successful as a teacher. Her students have been winners of national (the National Fryderyk Chopin Piano Competition – 2011 and 2015) and international competitions (in Vietri sul Mare – 2010, or Citta di Cantu – 2014, in Italy). They have also particpated in some prestigious piano festivals. One of the students, Rafał Błaszczyk, was among the Polish participants in the 2015 International Fryderyk Chopin Piano Competition in Warsaw. In 2010, the Chopin Year, Katarzyna received an honorary medal for her active promotion of culture, awarded to her by the Head of the Kujawsko-Pomorskie Province Council. In 2013 she obtained her habilitated doctor degree. The same year she was also presented with the Rector Award.
Katarzyna has frequently sat on juries for piano competitions. For a number of years she has also been fulfilling different functions at the Bydgoszcz Academy of Music. She has represented the Faculty of Instrumental Music as the Recruitment Committee Coordinator, a member of the Disciplinary Committee for Student Matters, or, recently also, the Head of the Election Committee. She is often appointed to sit on doctoral and habilitation committees. Her own academic plans are now aimed at discovering and preserving Polish musical heritage – she has started collaborating with the Polish Records Publishing House and the CD Accord Recording Studio to promote Roman Maciejewski's piano transcriptions among some wider public. She is presently employed as an associate professor at her alma mater.