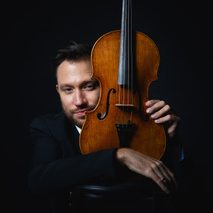 Krzysztof Komendarek-Tymendorf
Back to teaching staff
Krzysztof Komendarek-Tymendorf
Viola soloist, chamber musician, Assistant Professor, nationwide consultant to the Center for Artistic Education (CEA). He has been among the eminent Polish musicians of his generation for many years now. He comes from a family with deep musical traditions. In 2012 he graduated with honors from the Stanislaw Moniuszko Academy of Music in Gdansk in the viola class of Professor Irena Albrecht.
He perfected his skills at the Universität für Musik und darstellende Kunst Wien with Prof. Wolfgang Klos and Ulrich Schönauer and as a guest student of the Swedish National Orchester Academy in Göteborg. He educated himself and completed his studies with numerous courses under the prominent viola masters such as Alexander Zemtsov, Matthias Buchholz, Hartmut Rohde, Avri Levitan.
Komendarek-Tymendorf has acquired his knowledge of chamber music from renowned musicians such as: Valentin Erben (Alban Berg Quartett), Peter Schuhmayer (Artis Quartett), Apollon Musagète Quartett, Quatuor Ebène, Eberhard Feltz, Peter Matzka and Averis Kuyumjian.
Co-founder and member of the Balthus Quartet and Duo del Gesù; he performed together with eminent artists such as Christoph Hartmann, Avri Levitan, Wolfgang Klos, Joanna Woś, Krzysztof Podejko, Janusz Wawrowski, Bartosz Koziak, Anna Staśkiewicz, Bartosz Woroch, Mateusz Smoczyński, NeoQuartet, Mitch&Mitch, Zbigniew Wodecki, Jan Englert czy Daniel Olbrychski.
He has performed in many ensembles and orchestras in the most prestigious European halls, including Berliner Philharmonie, Konzerthaus Berlin, Herkulessaal in Munich (Germany), Musikverein, Wiener Konzerthaus, Musik Theater Schönbrunn, Konzerthaus Klagenfurt (Austria), Tivolis Konzertsal (Denmark), Konserthuset Gothenburg (Sweden) and Obecní Dům (Czech Republic).
Winner of international and national prestigious competitions, awards and scholarships.
At the age of 24, after winning two official competitions for the position of assistant, he began to teach at his Alma Mater where he currently works as assistant professor in the viola and chamber music class. In 2018, he defended his doctoral dissertation: Questions of Performance and Interpretation Regarding Fyodor Druzhinin's 1959 Sonata for Viola Solo and Mieczysław Weinberg's 1982 Sonata for Viola Solo No.3, Op.135 and in 2022 received habilitation degree with honors.
In 2019, he graduated with honors from postgraduate studies in Culture Management in Government, Local Government and Non-Governmental Organizations at the Polish Academy of Sciences in Warsaw, also receiving the award of the Director of the Institute of Literary Research of the Polish Academy of Sciences.
In 2021 he defended his thesis of the postgraduate MBA studies at the Adam Mickiewicz University and the University of Economics in Poznan.
In 2017 he received the honorary award "Distinguished for Polish Culture" and an occasional award from the Minister of Culture and National Heritage, and in 2022 he was awarded the departmental Bronze Medal for "Merit to Culture – Gloria Artis".
He made his debut as a soloist with the Polish Chamber Philharmonic Orchestra Sopot and as a chamber musician with the oboist Tytus Wojnowicz in Tadeusz Baird Zielona Góra Philharmonic.
Komendarek-Tymendorf has been invited to perform concerts as a viola soloist  f.e with the National Philharmonic Chamber Orchestra in Warsaw, Polish Chamber Philharmonic Orchestra Sopot, Lower Silesian Philharmonic, Kalisz Philharmonic Orchestra, Cappella Gedanensis, Capella Bydgostiensis, Sinfonietta Pomerania, Orchestra, Progress Chamber Orchestra, Baltic Youth Philharmonic and the Chamber Orchestra of the Stanisław Moniuszko Music Academy.
Worked as a soloist-leader of the viola section in many international symphony and chamber orchestras. From 2007 to 2012 he was the main leader of the viola group in the world's oldest youth orchestra – RIAS Jugendorchester in Berlin. He also performed the role of group leader and solo viola in such orchestras as: EURO SFK Symphony Orchestra, Verler Vier Jahreszeiten Sinfonie Orchetser, Landesjugendorchester Bremen, Junges Philharmonisches Orchester Niedersachsen, Deutsch-Skandinavischen Jugend-Philharmonie, Salzburger Philharmonie Orchester, Royal Johann Strauss Orchestra oraz International Mahler Orchestra. He also cooperates with such orchestras as: AUKSO Chamber Orchestra, Polish Chamber Philharmonic Orchestra Sopot, Baltic Philharmonic Orchestra (USA Tournée – 46 concerts), Elblag Chamber Orchestra, Baltic Opera, Hanseatic Chamber Orchestra, Detmolder Kammerorchester Orchester, Webern Symphonie Orchester, Studentische Philharmonie Hannover, Klangforum Mitte Europa Orchester, Landestheater Detmold Orchester, Pan-European Orchestra, Jasna Gora Ensemble, Gorzow Philharmonic and as violinist with Morphing Vienna Chamber Orchester.
He has performed under the baton of such excellent conductors as Pierre Boulez, Jerzy Maksymiuk, Krzysztof Penderecki, Marek Moś, Tadeusz Strugała, as well as with prominent soloists: Ivry Gitlis, Kolja Blacher, Quatuor Ebène, Krystian Zimerman, Piotr Beczała, Konstanty Andrzej Kulka, and Łukasz Długosz.
He has recorded for radio stations such as Deutsche Kultur Radio, Bayerischer Rundfunk, ORF Vienna Radio, Radio 1 (Poland) and television, notably TVP 1 and Telewizja Polsat. As a musician, he worked on the set during the shooting of Agnieszka Holland's film In the Dark.  A CD featuring the artist as a soloist was released by the Acte Préalable label in 2019.
In 2020 he made his phonographic debut with the CD entitled ReVIOLAtion with the label NAXOS (Germany), and in 2021, released a second album – Quantum of Silence with the label ODRADEK RECORDS (USA).
Albums won international numerous awards, such as the prestigious Supersonic Pizzicato Award in Luxembourg, Clouzine 9. International Music Awards (USA), 5 camertones in Diapason Magazine in France, nominated (f.e. Opus Klassik, ICMA) and other distinctions. He receives outstanding reviews from leading industry media: Diapason (France), Fanfare (USA), American Record Guide (USA), MusicWeb International (UK), Pizzicato (Luxembourg), El Eniversal (Mexico), Český rozhlas (Czech Republic), Music Island Recommends – June 2021, Ruch Muzyczny, Magazyn Presto, Gazeta Wyborcza, etc. His recordings are broadcast around the world.
The artist is a protagonist of viola and new music and has performed over 50 world premieres. Contemporary composers dedicate his works to him. His articles are published, among others in the Journal of the American Viola Society (USA) and on meakultura.pl.
He leads an intensified concert, pedagogical and didactic activity in Poland and abroad. Invited to renowned music festivals. Lecturer of international viola master courses and juror of music competitions. His students win prizes at viola competitions and for orchestra auditions.
Artistic director of many initiatives, including EURO Chamber Music Festival, Space Art Festival, Viva Viola Festivity, Baltic Music Workshops, ReVIOLAtion social campaign, ambassador of the nationwide Save the Music social campaign.
He currently plays the master viola of Wojciech Topa and the bow of Marcin Krupa.
https://www.facebook.com/ChristophTymendorfViolist