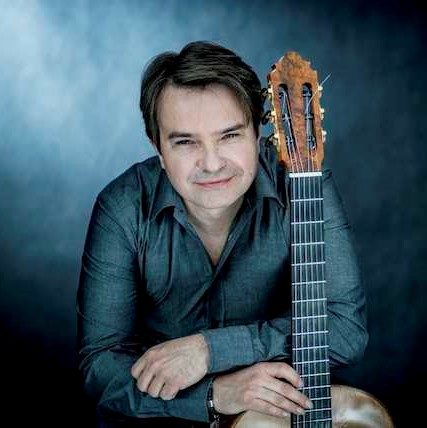 Krzysztof Pełech
Back to teaching staff
Krzysztof Pełech
Krzysztof Pelech was born in Wroclaw (Poland) in 1970. He began his music education at the age of twelve. In 1995 he graduated with honors from the Karol Lipiński Academy of Music in Wroclaw, where he studied under the direction of prof. Piotr Zaleski. In 1992/1993 he studied in Gordon Crosskey`s class at the Royal Northern College of Music in Manchester. He has mastered his music skills under the supervision of such renowned guitarists as Edmund Jurkowski, Roberto Aussel, Costas Cotsiolis, Joseph Urshalmi.
He has participated in twenty-one national and international competitions and has been a top prize-winner of sixteen of them, including:
– 1st Prize in All-Polish Competition of Spanish and Latin American Music, Cracov, Poland – Medal in the Maria Canals Competition, Barcelona, Spain
– 1st Prize in the Rene Bartoli Competition, Salon de Provence, France
– 2nd Prize in the Pan African Grand Prix International, Lome, Togo
– 1st Prize in the Villa de Laredo Competition, Spain
– 1st Prize in the Alexander Tansman Competition, Carpentras, France
– 2nd Prize in the Great Classical Guitar Festival and Competition, Oberlin, USA.
Krzysztof Pelech is one of the most active musicians of the young generation.
On average, he gives about sixty concerts a year (recitals, chamber-music performances, and as a soloist accompanied by orchestras).
He performs in the ensembles:
Horna & Pełech – guitar duo – Robert Horna & Krzysztof Pełech
Cloudsky Duo Sebastian Reimann – violin & Krzysztof Pełech – guitar
Duo Guitarinet Jan Jakub Bokun – clarinet & Krzysztof Pelech – guitar
Mazurtango Piotr Rangno – accordion & Krzysztof Pelech – guitar
Mr. Pelech has given concerts in nearly all European countries, the USA, Brazil, South Africa, Egypt, Singapore, Malaysia, Emirates, India, Mexico, Argentina and Chile. He has participated in numerous prestigious worldwide music festivals, and is invited to cooperate with eminent composers and guitarists. He regularly gives concerts with Jorge Morel who dedicated to Pelech one of his own compositions. Together with Jorge Cardoso, he performed "Suite Indiana" for two guitars and chamber orchestra. He has made a number of recordings for the radio (Polish Radio, BBC) and television (TV2, TV Polonia). He has recorded 16 CDs in Poland, England, Czech Republic, Germany and USA. The debut album by Duo Guitarinet, recorded for the Dux label, has received excellent reviews in the world music press and was nominated for the Polish Music Industry's Fryderyk 2000 Award. In the survey "Guitar Top", held by the professional music magazine "Guitar and Bass", Pelech has three times been chosen the best Polish classical guitarist.
He is the cofounder and artistic director of the International Guitar Festival Gitara+, held in Wroclaw since 1998, as well as the initiator and artistic manager of Summer Guitar Course in Krzyzowa. For several years on Polish Radio Wroclaw he broadcasted his own program "Guitar Sculptors". Krzysztof Pelech is also the cofounder of the Wroclaw Guitar Society.
In his repertoire, the artist has more than 20 concertos with symphonic and chamber orchestra. The solo repertoire includes compositions of various periods (J.S.Bach, D.Scarlatti, M.Guliani, F.Tarrega, F.Sor, M.M.Ponce, I.Albeniz, R.Dyens, A.Tansman), however his real love is bestowed on music coming from South America (A.Piazzolla, J.Morel, J. Cardoso, C.Guastavino, S.Assad).
He has worked with top Polish orchestras (Amadeus, Leopoldinum, Capella Cracoviensis, Capella Bydgostiensis, Wratislavia, WOSPR), performing concertos by A.Vivaldi, Concierto de Aranjuez by Joaquin Rodrigo, Concerto for Guitar and Chamber Orchestra by Heitor Villa-Lobos, Concerto Antico by Richard Harvey and Fantasie de la Danza by Jorge Morel. Krzysztof Pelech has also performed in concerts with Berlin Festival Orchestra at the Berlin Philharmonic Hall.