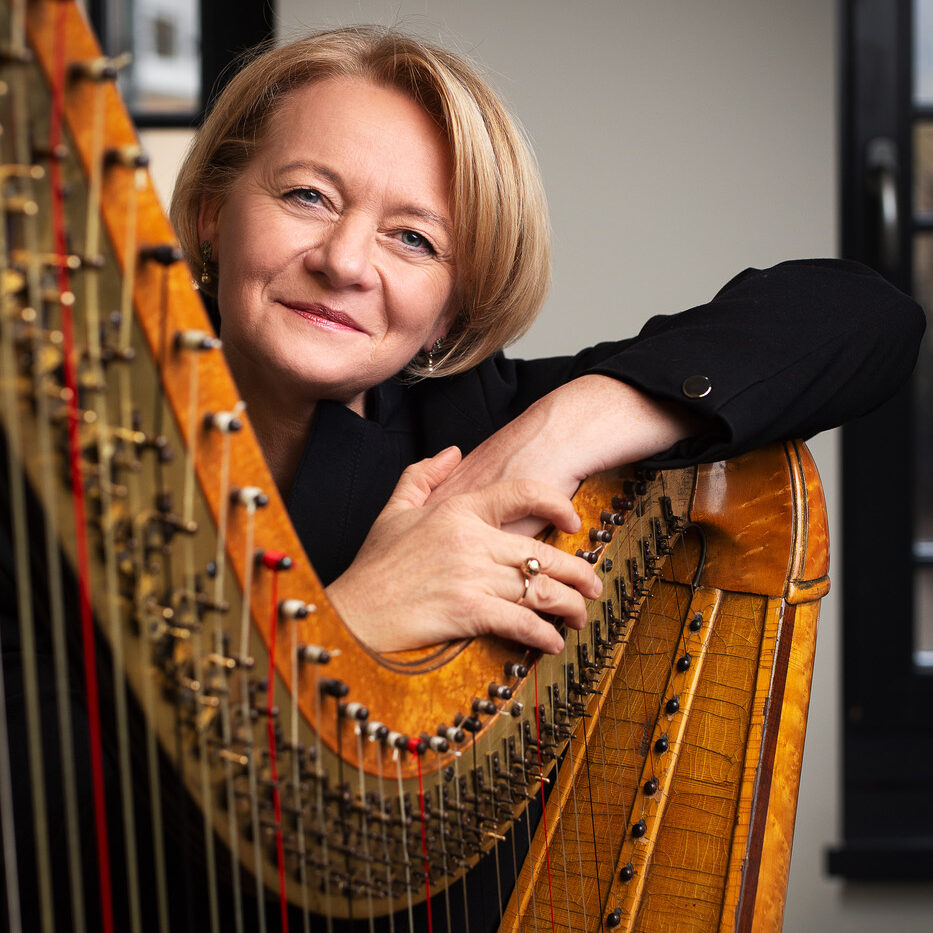 Małgorzata Komorowska
Back to teaching staff
Małgorzata Komorowska
Harpist, performing solo and with outstanding bands, versatile musician conducting multidirectional artistic activities, pedagogue, music therapist, oligophrenopedagogue.
An artist with a concert experience, both classical and combing classical music with jazz and popular music.
Graduate of the harp class of prof. Bogumiła Lutak-Modrinić of the Academy of Music in Kraków and the Chair of Contemporary Music Interpretation (diploma with honors – 1994). She also studied Psychology at the University of Warsaw. In the years 1998-2007, she was under the artistic supervision of prof. Ursula Holliger (Perfezionamento e di Interpretazione Musicale di Sermoneta). She also perfected her workshop at master classes with Susan Mildonian, Dawid Watkins.
Constant cooperation (2000-2007) with the Sinfonia Varsovia orchestra resulted in concerts in the most prestigious venues (Carnegie Hall, Théatre des Champs Elysées , Herkulessaal, Suntory Hall in Tokio), participation in renowned festivals (Salzburgu, Gstaad – Yehudi Menuhin Festival, La Folle Journée) and CD/DVD recordings (e.g. with Krzysztof Penderecki, Jerzy Maksymiuk, Jacek Kasprzyk, José Cura, Krzesimir Dębski, Michał Lorenc, Michel Corboz, Nigel Kennedy).  She has performed concerts and records works of symphonic, opera, musical and film music in cooperation also with the New European Orchestra, the National Philharmonic, the Polish Radio Orchestra, the Poznań Philharmonic, the Wrocław  Philharmonic, the Silesian  Philharmonic, the Roma Theater, the Philharmonic Częstochowa, the Bytom Opera House. Choral works, originally intended for singing and solo harp, were performed by her with excellent choirs: New English Singers, University of Manitoba Singers, New European Singers, Schola Cantorum Bialostociensis, Pueri Cantant, Sine Nomine, Poznańskie Słowiki, Izrael Kibbutz Choir. 
Invited as a soloist to international festivals (including: Festival Pontino, Music Festival in Salzburgu, Usti nad Labem, Gaude Mater, Great Anniversaries – G.F. Handel under the baton of Paul Esswood at the Royal Castle in Warsaw). She makes own arrangements, compositions and harp improvisations, performing and regularly recording in fusion projects combing classical music with jazz (projects: Continentals Orchestra & Choir, Marcin Pospieszalski, Michał Urbaniak, Grzech Piotrowski, Mate.O, Joachim Mencl, Paweł Zarecki, Mateusz Pospieszalski, Janusz Stokłosa). 
She  performs duets with the flute (Jadwiga Kotnowska), the soprano saw (Jolanta Sosnowska), the soprano (Barbara Abramowicz). She also performed a variety of the repertoire with the string quartet (Pomeranian Quartet, Fair Play Quartet).  The artistic interdisciplinarity of  Małgorzata Komorowska is reflected in numerous concerts combined with vernissages, lectures, music therapy, and in creating literary and musical projects with the most outstanding actors (Brigitta Assheuer, Jarosław Gajewski, Jerzy Łazewski, Olgierd Łukaszewicz, Zofia Kucówna, Wojciech Malajkat, Małgorzata Niemirska, Ewa Segeda, Jerzy Zelnik, Magdalena Warzecha) and in performing original music for theater spectacles. 
She is a member of the Polish Harp Society and Christian Art Center based in Rotterdam.