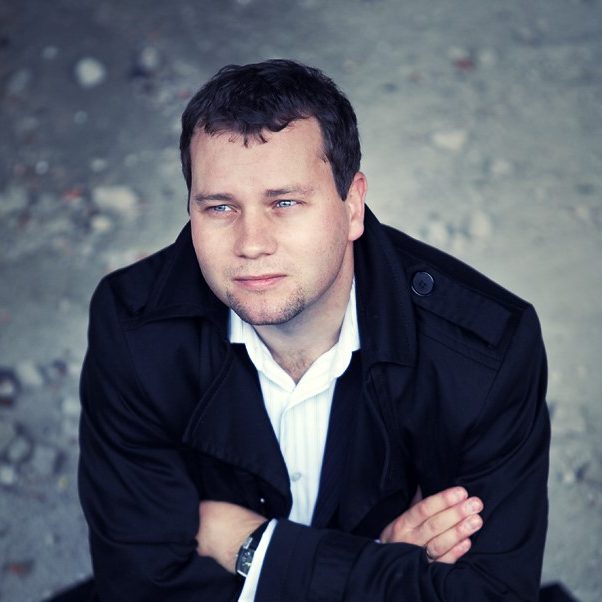 Marcin Gumiela
Back to teaching staff
Marcin Gumiela
Marcin Gumiela (born April 11, 1980 in Tomaszów Lubelski) is a composer, music theorist and a pedagogue. In 2006 he graduated with distinction from the Faculty of Composition, Theory of Music and Sound Engineering at Feliks Nowowiejski Academy of Music in Bydgoszcz (Composition under the direction of prof. Marek Jasiński and prof. Zbigniew Bargielski and Theory of Music). In March 2011 he graduated from doctoral studies at Frederic Chopin University of Music in Warsaw. Gumiela works at Artur Rubinstein Complex of State Music Schools in Bydgoszcz and at home Alma Mater as an assistant at the Faculty of Composition, Theory of Music and Sound Engineering. His works have been performed in many Polish cities as well as abroad (in the USA, Italy, Germany, France, Slovakia, Ukraine and Belarus). His compositions were also present in the programmes of many prestigious music festivals, such as Warsaw Autumn, International Festival of Krakow Composers, Sacrum Non Profanum in Trzęsacz, Dialogues in Mińsk and Music Premieres of 2006 Season in Kiev. In 2005 Gumiela received the first prize at International Composition Competition, organised on the occasion of the 30th anniversary of Music Academy in Bydgoszcz and an award voted by the Club of the Young within the Polish Composers Union for the First Violin Quartet, which a year later was performed at Warsaw Autumn festival by Camerata Quartet. In 2005 Gumiela was a scholar of Socrates / Erasmus programme at the Academy of Arts in Bańska Bystrzyca. The same year his music has been recorded for the needs of Katarina Misikova's film Le parkour. In February 2007, as a result of the competition, Gumiela was included in the four-year programme of patronage over young composers held by The Krzysztof Penderecki European Centre for Music. In 2009-10 he took part in an international project FABREC, collaborating with Sorano Theatre in Touluse, writing music for Gracia Morales' performance.
Marcin Gumiela's pieces may be found in repertoire of ensembles such as Choir and Orchestra of Silesia Philharmonic, Choir and Orchestra of Podlachia Opera and Philharmonic, Silesia Chamber Orchestra, Karol Namysłowski Philharmonic Orchestra in Zamość, choirs such as Chamber Choir of Karol Szymanowski Academy of Music in Katowice, "Akolada" Choir under the direction of Renata Szerafin-Wójtowicz or Polish and foreign chamber ensembles.
In July 2008 DUX company released the CD entitled Young Composers in Homage to Frederic Chopin, which contains Gumiela's Le Impressioni Fiorentini for violoncello and piano. In 2009 the disc was nominated to Fryderyk Music Award in Contemporary Music category. In 2011 the monographic CD Sacred Works with Gumiela's music was published , again by DUX company. The compositions have been interpreted and recorded by Podlachia Philharmonic Choir and Orchestra and conducted by Marcin Nałęcz-Niesiołowski. Since 2012 Gumiela cooperates with Pomeranian Philharmonic, creating music to plays for children, held in the cycle "Muzyczne Bajkoranki" (Musical Tale Mornings).
Marcin Gumiela is the author of music to films such as Ostatnia Droga (The Last Journey), directed by Robert Wichrowski and Osobno. Razem, directed by Mateusz Buława. In the artistic season of 2015-16 Gumiela became a resident composer of Karol Namysłowski Symphony Orchestra in Zamość, the oldest Polish symphony orchestra.
Gumiela's works are featured by profound emotiveness, often of religious nature. The pieces balance between the tone of intimate, passionate confession and the atmosphere of solemn devotion. Quite often the expression becomes monumental, reaching extatic sensations. Gumiela's works may be also perceived from the symbolic viewpoint, nearly as religion mystics' literature. Oftentimes Gumiela encodes parts of his faith within number ratios in his works.