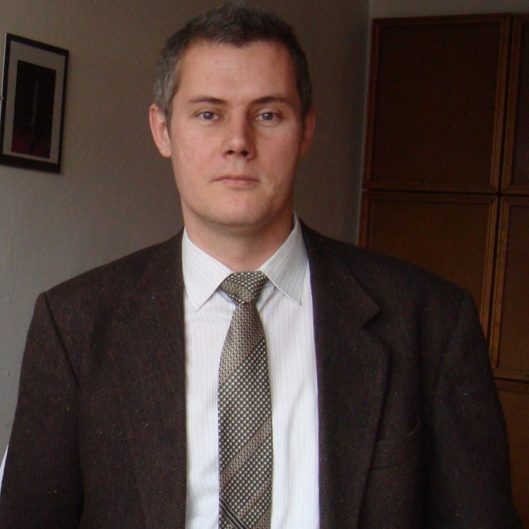 Marcin Kopczyński
Back to teaching staff
Marcin Kopczyński
Marcin Kopczyński was born in Inowrocław on 28 March 1973. He graduated with distinction from the State School of Music in Inowrocław in the classes of piano and horn. In 1998, Kopczyński received a diploma from Bydgoszcz's Academy of Music in the fields of composition (the class of Prof. Franciszek Woźniak, with distinction) and theory of music. He was granted the title of doctor of art, specialising in composition and theory of music, in 2010.
Marcin Kopczyński currently works in his native college. He has twice been a Minister of Culture and Art scholarship holder (1996, 1997). In 1997, he was awarded the President of Inowrocław Prize for his chamber orchestra piece Vivax (1996). In 2000, his 8-part motet In Te Domine speravi (1996) reached the final of the New London Choir Choral Composition Prize. In 2010, he received the Vice- Chancellor of the Bydgoszcz Academy of Music Prize.
Kopczyński has written several dozen works for a multitude of scorings. His compositions and arrange¬ments have been performed abroad: in Germany, Spain (Dolorosa for choir performed in the cities of Santander, Pravia and Turon), in Hungary and in Ukraine (Radość jak muzyka had its world premiere at the Third Musical Meetings of Polish and Ukrainian Youth in Lviv performed by the Lviv Philharmonic Orchestra), and a host of cities in Poland, including Warsaw (the Academy of Music – the Edmund Kossowski Vocal Competition – 2005 and 2007, the Warsaw Music Society, the Church of the Holy Cross), Kraków (the Academy of Music, Audialnia Gal¬lery), in Częstochowa at the International Church Music Festival "Gaude Mater" in 2004 and 2007, in Szczecin (Branch of the Academy of Music in Poznań), Olsztyn (the Felix Nowowiejski Philharmonic Hall) and Rzeszów (the Artur Malawski Philharmonic Hall), Bydgoszcz (the Academy of Music, BWA, the Bydgoszcz Music Festival, the Filharmonia Pomorska), Inowrocław, Elbląg, Toruń (the Artus Hall, the Science and Art Festival 2008 – the Town Hall's Burgher Room, the Piano Chamber Music Competition), Stalowa Wola (the Janina Garścia Festival) and Włocławek. Kopczyński's compositions have been repeatedly presented during concerts accompanying international and national scientific symposia held at both the Academy of Music and the Kazimierz Wielki University in Bydgoszcz.
The composer's works and arrangements have been directed by such conductors as Zygmunt Rychert, Jerzy Salwarowski, Jan Łukaszewski, Włodzimierz Siedlik, Mieczysław Nowakowski and Jerzy Kosek.
His Tutti e soli (1998) was recorded for Polish Radio by Agnieszka Duczmal and the Amadeus Orchestra. The recording was included in 2008 on the composer's first market release, featuring his eleven works, Stream of consciousness (Acte Préalable AP0186).
Kopczyński frequently performs his works from the piano; he appeared during a Polish contemporary music concert at the Hochschule für Musik und Theater in Hamburg in 1999 playing his Sonata no 1 (1995) and Panta Rhei (1998), at the Second Polish Music Festival in Györ, Hungary in 2008, and in several Polish cities. Kopczyński perfected his piano skills with Prof. Jarosław Drzewiecki (in secondary school and at the academy), and also during a course in Słupsk (with Prof. Katarzyna Popowa-Zydroń and Prof. Andrzej Tatarski).
Besides teaching, Kopczyński is also active as an accompanist at the State School of Music in Inowrocław (he was granted a diploma for his exceptional accom¬panist's performances during vocal contests in Słupsk and Gdynia in 2008 and 2010) and as an organist of the Parish of St. Hedwig the Queen in the same city. He is a member of the Polish Composers Association (since 2006) and the Inowrocław Music Society "PRO ARTE", and he is also active organising musical events, such as a cycle of evenings of composers, "Musica Varia Est", held in Inowrocław.