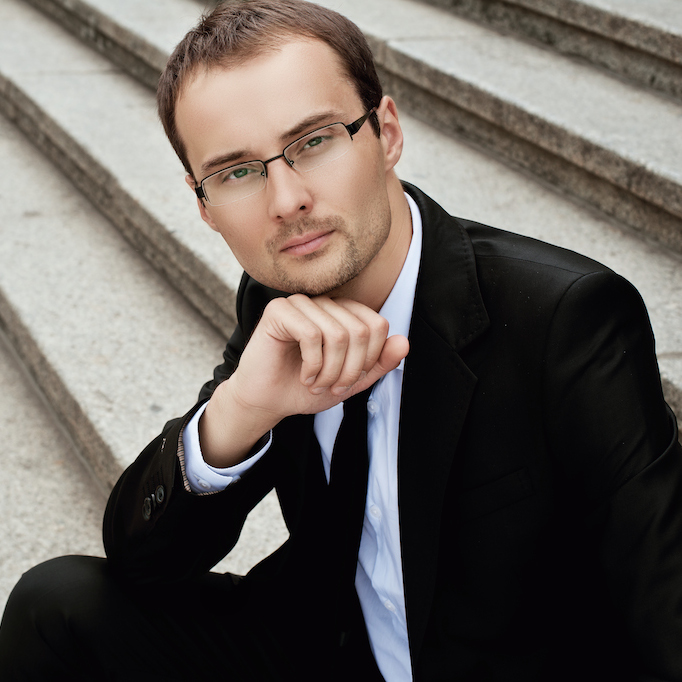 Mariusz Klimsiak
Back to teaching staff
Mariusz Klimsiak
Mariusz Klimsiak has been the laureate of the 3rd Competition of the 20th Century Music in Warsaw, the Festival for Young Musicians in Gdańsk, the 3rd all-Polish F. Chopin Piano Competition in Warsaw and the International Piano Festival in Sanok. He has graduated with distinction from the Academy of Music in Bydgoszcz under Professor Jerzy Sulikowski. Mariusz Klimsiak has also furthered his education at courses supervised by Ewa Pobłocka, Katarzyna Popowa-Zydroń, Naum Starkmann, Aleksjej Orłowiecki and Viera Nossina. In 2009 he was awarded the title of Doctor of Musical Arts.
As a soloist and chamber musician he played with the National Philharmonic, the Wrocław Philharmonic, the Lower Silesian Philharmonic and the Lublin Philharmonic. The artist participated in Łańcuch IV (the Chain Festival) in Warsaw, the Forum Musicum Festival in Wrocław, the Lutosławski Forum Festival in Warsaw, the Festival of Polish Pianism in Słupsk, the International Bach Festival in Świdnica as well as in artistic events in Italy (Florence), Spain (Alicante) and the USA (Seattle, San Francisco). The artist toured Germany with the Lower Silesian Philharmonic under Jerzy Swoboda. He performed with Mariusz Patyra, the Silesian String Quartet and Capella Cracoviensis.
His stylistically diverse repertoire features both baroque pieces and contemporary compositions. The artist performed concertos ranging from Bach, Mozart, Beethoven, Chopin, Liszt and Brahms to the 20th century classics (including Rachmaninov's Concerto No. 3, Prokofiev's Concerto No. 3 as well as Stravinsky's, Shostakovich's and Lutosławski's concertos). Besides performing crucial piano compositions (Beethoven's Piano Sonata in C minor Op. 111, Liszt's Sonata in B minor, Chopin's Sonata in B minor, Brahms' Sonata in F minor) his solo repertoire includes also infrequently performed compositions, such as Hindemith's Sonata No. 3 or Berg's Sonata.
Mariusz Klimsiak performs willingly chamber music. Playing in duet with violin the artist presented, among other, all Beethoven's sonatas (also as a whole staged in a cycle of three concerts), collection of Brahms' sonatas, Schubert's Fantasia in C major, sonatas of Mozart, Schumann, Debussy, Franck, Szymanowski, Shostakovich's as well as Lutosławski's compositions. Artist's performance with cello feature Beethoven's and Brahms' sonatas as well as Rachmaninov's Sonata in G minor. Additionally, Mariusz Klimsiak appeared in a piano duet playing Brahms' Sonata in F minor Op. 34b and 2nd Suite as well as the Symphonic Dances by Rachmaninov.
With a soprano Kamila Kułakowska he performed a world premiere of Lutosławski's Chantefleurs et Chantefables for voice and piano (arranged by Eugeniusz Knapik) in the Witold Lutosławski Concert Studio in the Polish Radio. More compelling compositions in the repertoire include Schönberg's Pierrot lunaire and among compositions for larger chamber ensembles their mention deserve quintets of Zarębski, Shostakovich, Bacewicz as well as Chausson's Concerto in D major (for piano, violin and string quartet) or Michał Dobrzyński's Continuum (for two pianos and two percussion sets).
An important element of his professional activity is also a period instrument performing. He started with the romantic repertoire (concertos by Chopin and Schumann) but now he reaches willingly for the instruments of Mozart's and Beethoven's time. In November 2017 came out his album with the Chopin Piano Concerto in F minor performed on a copy of Pleyel piano from 1830. The pianist is joined there by Capella Cracoviensis conducted by Jan Tomasz Adamus
The artist worked as the assistant with Professors: J. Sulikowski, E. Pobłocka, M. Murawska and J. Godziszewski at the Academy of Music in Bydgoszcz. Nowadays he holds the position of lecturer at his Alma Mater.