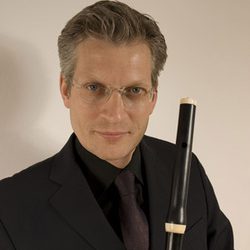 Michael Schmidt-Casdorff
Back to teaching staff
Michael Schmidt-Casdorff
Michael Schmidt-Casdorff's musical interest and passion is going out for the historical transverse flutes and their historically informed performance practice.
He is principal flute player of the legendary Orchestra of the 18th century founded by Frans Brüggen, as of the Balthasar-Neumann-Ensemble conducted by Thomas Hengelbrock.
Apart from that he was invited a numerous of times by Alice and Nikolaus Harnoncourt to play in their Concentus Musicus Wien.
He is also principle flute player of the Capella Augustina (conducted by Andreas Spering) in the context of the Brühler Schlossfestspiele and is regularly invited by the Budapest Festival Orchestra.
With the Händelfestspielorchester Halle Michael appeared several times as a Soloist.
With Thomas Hengelbrock and the Balthasar-Neumann-Ensemble (called after the famous baroque architect) he took part in numerous operaproductions in f.e. Festspielhaus Baden-Baden, Paris, Madrid and New York.
For the Wagneryear 2013 a sensational Production of Parsifal was set on the program.
Michael Schmidt-Casdorff's musical activities are richly documented with a huge number of CD/DVD-recordings in various combinations.
From 2003-2008 Michael Schmidt-Casdorff was teaching at the University of Music and Performing Arts in Munich.
He gave numerous of masterclasses for traverso (f.e. in Basel, Warsaw, Karlsruhe, Salzburg, Düsseldorf, Neuburg a.d. Donau) and teaches nowadays at the Folkwang University of the Arts in Essen as well as at the Music Academy Feliks Nowowiejski in Bydgoszcz (Poland).