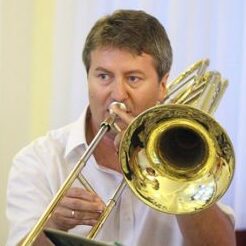 Paweł Kalicki
Back to teaching staff
Paweł Kalicki
He began his musical education in 1984 at the Music Secondary School of Karol Szymanowski in Warsaw in the trombone class of mgr H. Małecki.
in 1988, after graduating from the Secondary Music School, he passed the exam to the Academy of Music in Warsaw. For the first two years he studied with prof, Juliusz Pietrachowicz, and the next two in the class of prof. Roman Siwek. During his studies, he was a participant in the international Competition of Wind instruments in Gdansk and a scholarship holder at the international Competition "Prague Spring 1992".
He participated in the Musical interpretation Course in Duszniki Zdroj under the supervision of prof. Steven Anderson from the University of Kansas (USA). He also perfected his skills under the guidance of such celebrities as: Chrystian Lindberg (solo trombonist – Sweden) and Ardash Merdozian (first trombonist of the Chicago Opera-USA).
As a student, he collaborated with the National Philharmonic Orchestra, the National Opera and the Polish Radio Orchestra in Warsaw, where he made several recordings.
Since 1992, he has been associated with the Pomeranian Philharmonic i. Paderewski in Bydgoszcz. He works as a solo musician. in the same year, he started working at the Music School Complex for them. A. Rubinstein in Bydgoszcz. in 1993, the student Remigiusz Matuszewski won the first prize at the National Competition for Secondary Schools in Czestochowa.
As a member of a symphony orchestra, he has given concerts in Poland and abroad, including: Germany, France, Denmark, South Korea, Cyprus, the USA, Spain, and Hungary.
He has made many recordings with the Pomeranian Philharmonic Orchestra, Capella Bydgostiensis, Torun Chamber Orchestra and Sinfonietta Bydgoska.
Since 2002, he has been working at the Academy of Music. F. Nowowiejski, leading the trombone class. He organizes workshops to improve the skills of playing the trombone, inviting music authorities, incl. prof. R. Siwek from the University of Music in Warsaw, Maciej Pietraszko from the New York opera and M. Tiiklen from the University of Leuven (Belgium).
He is a member of the jury at competitions for brass instruments. in addition, he has repeatedly conducted workshops and lectures, sharing his own experience with students.
He also works as a chamber musician in the brass quintet "Triumphai Brass Quintet", and collaborates with the band "Eljazz Big Band".