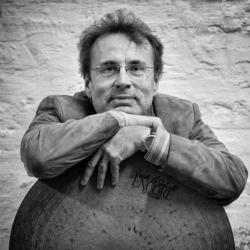 Piotr Biskupski
Back to teaching staff
Piotr Biskupski
Piotr Biskupski – graduate of Music Academy in Poznań in prof. J.Zgodziński class.
Laureate of individual prizes in main jazz competitions / "Złota Tarka" and "Jazz nad Odrą" / .
He cooperated with the most important figures in polish jazz,such as Z.Namysłowski,W.Karolak,T.Szukalski and also with R.Ross,M.Hendrix,D.Brown,B.Molenhof,S.Weinert,H.Romero,A.Kulka,V.Brodski,as well as with famous vocalists like H.Banaszak,E.Geppert,K.Kowalska.
Member of artistic projects created by W.Nahorny,J.Strobel,M.Bogdanowicz,F.Wojciechowski,Krzysztof Herdzin and David Friedman,with whom he has worked for many years.
Often invited by artists from different genres to cooperate.
Well-known as a studio musician,he recorded over 45 albums.
Author of two percussion manuals. Highly-valued teacher. He has classes in Music Academies in Bydgoszcz and Łódź,where he is an extraordinary professor,currently in function of jazz department Director.
Expert of the Center of Artistic Education in Poland. His graduates score successes in national and international competitions.
He lectures on many percussion and jazz courses and actively writes articles for professional musical magazines,such as "Top Drummer', "Muzyk" and "Perkusista".
He is and artistic director of Percussion Art Festival "Drums Fusion" in Bydgoszcz, "Young Masters of Percussion" Competition in Brodnica and International Percussion Forum in Kolbuszowa.
Decorated -"Gloria Artis" medal for special achievements for national culture.