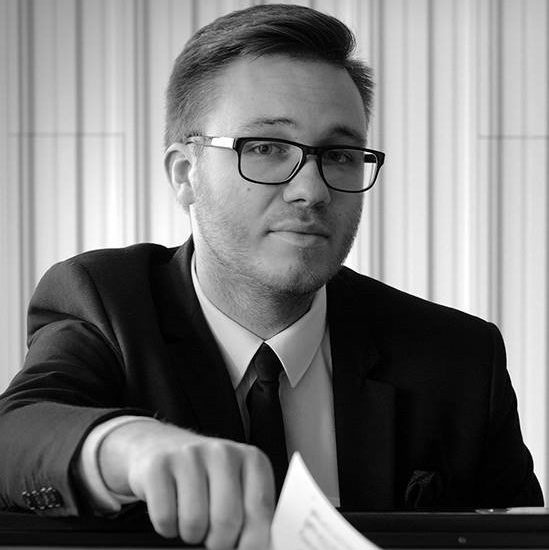 Rafał Błaszczyk
Back to teaching staff
Rafał Błaszczyk
Rafał Błaszczyk graduated with the highest distinction from the Feliks Nowowiejski Academy of Music in Bydgoszcz in the class of renowned Professor Katarzyna Popowa-Zydroń and Professor Katarzyna Rajs. Now he is a student of second year of doctoral degree in the class of Professor Ewa Pobłocka and Katarzyna Rajs. He is a prize-winner of national and international piano competition.He won Third Prize in the Bydgoszcz Chamber Tournament. He was one of the participants of the XVII International Fryderyk Chopin Piano Competition in Warsaw
He has taken part in masterclasses given by Katarzyna Popowa-Zydroń, Nelson Goerner, Alberto Nose, Ewa Pobłocka, Elżbieta Tarnawska, Mikhail Voskresensky, Janusz Olejniczak, Dmitri Alexeev, Dang Thai Son, Kevin Kenner, Nikolai Demidenko,, Paolo Giacometti and Tobias Koch(period instruments).
. He has received grants from Agrafka Muzyczna and the Marshal of Kujawy-Pomerania Voivodeship. Since 2012, he has been working with the Pomeranian Philharmonic. He is also a piano-accompanist in the violin, viola and cello class in the Feliks Nowowiejski Academy of Music in Bydgoszcz.
He has performed in concert at home and abroad as a soloist and as a chamber pianist. He has taken part in the 'Chopin and his Europe' festival in Warsaw, in a concert devoted to Jan Ekier and recital given on period instruments.He performed at the Chopin Museum in Warsaw and in Żelazowa-Wola, Szafarnia, Ostromecko, Hastings, National Philharmonic, Pomeranian Philharmony, Philharmony in Kalisz and Gdańsk and Polish National Opera.