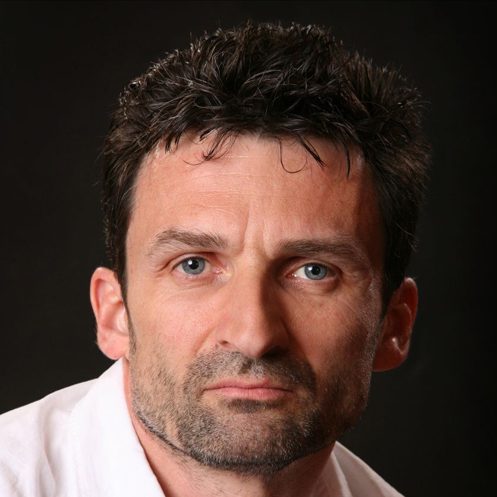 Witold Szulc
Back to teaching staff
Witold Szulc
Born on the 20th of September in Poznan, a great great grandson of a Polish composer Zygmunt Noskowski.
Graduated from the Faculty of Acting of the Cracovian Academy of the Dramatic Arts in Wroclaw (1988) and the
Vocal and Drama Faculty of the Academy of Music in Poznan (2012). In his repertoire there are several dozen of theatrical, musicaland film roles in drama and music theatres.
In September 2015 he directed a musical "Panna Tutli Putli" based on his own scenario by Witkacy.
http://teatrdlawas.pl/recenzje/4402-witkacy-disneyempodszyty
http://www.e-teatr.pl/pl/artykuly/208844.html
More important theatrical roles:
– Mistrz in "Bal u Wolanda" (directed by Ł. Czuj), based on M. Bulgakov
http://www.archiwum.wyborcza.pl/Archiwum/1,0,2355552,20040313RP-DGW,Szatan_z_gitara,.html
– Leon in "O, beri-beri" based on "Matka" by Witkacy (directed by W. Komasa)
– Ubu in "Ubu król", (directed by W. Górski) and Ubu the
slave in "U. B. U./ I' ll BE ME" (directed by S. Sapp and W.
Górski; The Point Theatre, New York)
http://europeanstages.org/past-issues/slavic-and-easteuropean-performance-archive/seep-volume-18-number-3/
– Monodrama "Aktor" based on his own scenario (directed by K. Deszcz)
– Jerry in "Two for the Seesaw" (directed by K. Szymczyk)
– Los in "Deca-dance" (directed by J. Satanowski)
– Ramiro the prince in "Kopciuszek" based on Rossini
(directed by W. Kępczyński)
– Bruno Schulz in "Wiosna" (directed by R. Major)
– Ksiądz in "Łatwe umieranie" (directed by L. Raczak)
– Juda in "Ty za blisko…" (directed by M. Pasieczny)
– Dave in "Kogut w rosole" (directed by M. Gierszał)
More important music roles:
– Caiaphas and Annas in "Jesus Christ Superstar" (directed by M. Korwin). In 2002 presented for 6 weeks in the Musical Theatre in Basel.
http://www.mybasel.ch/freizeit_veranstaltungen_events_oldev
ents.cfm?content=lifestyle_szene_story40
– Atlantos and Jabbador in "Atlantis" (directed by M. Korwin)
– Bryndas in "Krakowiacy i górale" (directed by A. Rozhin)
– Perchik in "Fiddler on the Roof" (directed by A. Hofman)
– "Brassens" recital of songs of Georges Brassens (directed by M. Stebnicka)
– Tevye the milkman in "Fiddler on the Roof" (directed by Maciej Korwin)
– Bill Sikes in "Oliver!" (directed by Magdalena Piekorz)
– Kantor, immigration officer, the theatre director in "The
Parry Sisters" (directed by Piotr Szalsza)
– Calfucci in the "Machiavelli" musical (directed by Bartłomiej Wyszomirski)
http://kultura.newsweek.pl/machiavelli-czyli-cudownykorzen-teatr-muzyczny-w-toruniurecenzja,artykuly,355144,1.html
More important film roles:
– rabbi Lichsztajn in "Generał Nil", directed by Ryszard Bugajski
– Witek Konecki "Plebania" TV series
– Jacques in "Śniadanie do łóżka" directed by Krzysztof Lang
– Cynia's father in "Syberiada polska" directed by Janusz Zaorski
– Mirek in "Barwy szczęścia" TV series
– Prosecutor in "Głęboka woda" TV series
– prosecutor Jacek Drzazga in "Na Wspólnej" TV series
– Polish consul in Columbia in "Pierwsza miłość" TV series
– Skotnicki in "Prawo Agaty" TV series
Since 1995 he has cooperated with the Feliks Nowowiejski Academy of Music in Bydgoszcz, where he has acting classes
and directs original student spectacles – in 2014 he directed a spectacle "Chopin. Niebezpieczne związki" (Chopin. Dangerous Liaisons) based on his own scenario.
http://kultura.newsweek.pl/chopin-niebezpieczne-zwiazkirecenzja-newsweek-pl,artykuly,284772,1.html
In 2007 he defended his doctoral thesis at The Aleksander Zelwerowicz National Academy of Dramatic Art in Warsaw. In January 2014 on submission of the dissertation "Aktor a partytura" (Actor vs. Music Score) he acquired the PhD degree at the Acting Faculty of the same institution. In March 2014 the dissertation was published.